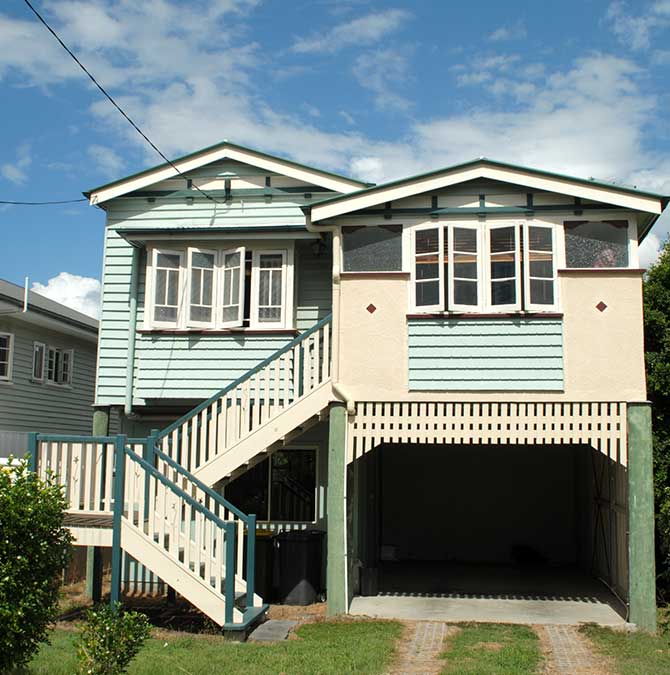 We Build Timber Stairs Across Brisbane
Timber Stairs
We all know that timber stairs have a lifespan. Outdoor timber stairs are a feature of our beautiful Queensland houses but constant sun and rain cause them to wear and degrade more quickly than rest of our homes. This is particularly true of poorly or incorrectly constructed timber stairs. At Brisbane Decks and Stairs we specialise in building hardwood timber stairs that are built according to correct standards and that will last.
Hardwood Timber Stair Replacements
Many older homes have outdoor timber stairs that are contracted entirely of hardwood though the style of the balustrade may vary with the age of the house. Most of these styles are still available should you choose to replace your timber stairs like for like. However, due to the extremes of weather we experience in Queensland some owners choose to replace timber stairs with a more robust alternative and prefer to use hot dipped galvanised steel stringers. 
Whichever you choose for your timber stair replacement you have the same option of handrail or balustrade. If you need some advice, we'd be happy to help. Call us on 0412 645 022 and we'll have one of our friendly tradesmen suggest the best solution for your new stairs.
Stair & Deck Repairs
If you're looking to have your existing stairs repaired in or around the Brisbane region, Brisbane Decks and Stairs are the local specialists in repairs as well as new installations. Customer safety is our priority so you can be confident that your stairs will be repaired professionally and competently by qualified carpenters. 
We also undertake deck repairs from replacing rotting flooring to rebuilding unsafe balustrades. We'll give you a detailed quote and a fixed price and of course, as licensed builders all our working is fully guaranteed.
Replacement External Timber Stairs
When inspecting external timber stairs the most common problem we find is wood rot often caused by water when stairs have been poorly built. In Queensland external timber stair treads and risers have been traditionally constructed of ironbark, spotted gum or kwila hardwood as all of these are extremely durable. Balustrading or handrails are often constructed with the same materials or with more contemporary options such as stainless steel wire.
Whatever you preference we'll build replacement outdoor timber stairs to match the style of your home perfectly and you'll have a set of safe, long lasting stairs constructed by the Brisbane external and outdoor timber stair experts.
Outdoor Timber Stair Repairs
Repairing existing stairs is also possible in some cases, this is particularly true when the treads and risers are sound but the handrail has become loose and unsafe. Sometimes this happens because of poor construction or because the materials chosen such a pine are not as durable as hardwood. If the handrails on your stairs have become loose we can replace these to ensure the safety and integrity of your staircase.
Call Us And Talk To A Tradesman on 0412 645 022
Replace Old Stairs
If your outdoor stairs are only and unsafe we can replace them to match you home perfectly. Our tradespeople are expert in replacing old stairs and landings for new ensuring that your home is safe and built to code.
New Timber Decks
We've been building timber decks on every kind of site for more than 25 years. Brisbane Decks and Stairs have the design ideas and experience to give you the entertaining area you want to enjoy out great Queensland outdoors with family and friends.
Stair and Handrail Repairs
We often find that stairs are basically sound but handrails have become loose from wood rot. At Brisbane Decks and Stairs we carry out all handrail and stair tread repairs.
Deck Repairs
Our hot and wet tropical Queensland climate means that outdoor areas such as decks take the most of the weather. Our carpenters repair all timber decks and balustrades so that your outdoor living areas are in the best possible condition.
External Stair Options
Hardwood timber treads, risers
Hardwood timber treads with hot dipped galvanised risers
Handrails / Balustrades, hardwood, treated pine, stainless steel wire, feature panels available
Custom build to your style and requirements
Testimonials
Our Awesome Clients
Sam Irwin – Google
Brisbane decks and stairs did an awesome job on my hardwood stairs in my Queenslander the whole experience was amazing from start to finish the job was done on time and to a high standard and with great communication. I would thoroughly recommend these guys.
RD – Google
Good to find an old school builder that has a no fuss approach. Clearly explains things in a away that makes perfect sense and left us feeling confident. The use of all Hard Wood and the quality workmanship looks like it is going to last a life time.Thanx for the great Guys
Antoine M – Google
Great Workmanship and quick work to replace a set of old and rotten stairs. Love the hardwood.