Need a New Deck Installed?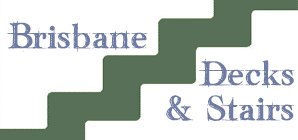 Brisbane Decks and Stairs, The Trusted Expert for Timber Decks Brisbane
If you're looking for deck ideas that will inspire you've landed in the right place. We'll help you create a transition space that enhances the indoor to outdoor flow of you home and gives you the entertaining and relaxation area you've always wanted. You'll enjoy the great Brisbane even more on a new deck built exactly how you want it.
With more that 20 years in expert timber deck construction all over Brisbane, we've built 100's of timber decks on all types of homes and every possible site you can imagine. Our deck construction process has been refined over time and we're quick, efficient and have the highest quality standards in our industry.
If you want a hassle-free deck building experience and quality matters to you, we'll deliver.  Call Rhys at Brisbane Decks and Stairs on 0423 596 413 and get an obligation free quote today.
Brisbane timber decks, because construction shouldn't just look good on paper

Hardwood Timber
Decks
You'll love the look and feel of our hardwood timber decks. Timber decks offer warmth and comfort and if you live in a traditional Brisbane dwelling, you need deck will compliment you home perfectly. If you're dreaming of the perfect outdoor entertaining area we can help you make the dream come true and we'll do it quickly, efficiently and affordably.
More about hardwood timber decks
Timber Composite Maintenance Free Decks
Timber composite are the modern alternative to traditional timer decking. If you're building a new deck or replacing an old one, timber composite decking is the environmentally friendly and maintenance free solution. You'll have more time to entertain and enjoy
our outdoor Brisbane lifestyle.
More about maintenance free decks

Deck
Repairs
If you have an existing deck in need of TLC our skilled team undertake all kinds of deck repairs. Wood rot, termite damage, broken decking or loose posts, we can repair it. Our fully qualified carpenter can replace damaged decking, bearers, joists and stairs. By the time we've repaired and oiled your deck it'll look like new. Give us a call and enjoy your outdoor area again.
More about deck repairs

Sam Irwin – Google Review
Brisbane decks and stairs did an awesome job on my hardwood stairs in my Queenslander the whole experience was amazing from start to finish the job was done on time and to a high standard and with great communication. I would thoroughly recommend these guys.

RD – Google Review
Good to find an old school builder that has a no fuss approach. Clearly explains things in a away that makes perfect sense and left us feeling confident. The use of all Hard Wood and the quality workmanship looks like it is going to last a life time.Thanx for the great deck guys.

AM – Google Review
Great workmanship and quick work to replace a set of old and rotten stairs.
Love the hardwood.
Why choose Brisbane Decks and Stairs?
At Brisbane Decks and Stairs, we've built a solid reputation for exacting workmanship and outstanding outcomes at a reasonable price. We use the best timber, composites and fasteners available and our team has the experience you need to ensure quality craftsmanship.
We believe in clear communication and good planning, we'll keep you informed every step of the way. We're customer focused ensuring that you get the deck or entertainment area you want.
We're reliable, quick and efficient. The quality assurance and safety systems we have in place mean that everything is taken care of and nothing is left to chance.
We'll create great looking, functional outdoor areas that you'll enjoy for years to come. Once your ned deck deck is finished, our project manager will complete a thorough inspection of the work area to ensure that our high standards have been met and that we have left your home clean and tidy.
When you choose Brisbane Decks and Stairs you're choosing a Brisbane deck builder who keeps their promises, keeps you informed and delivers the outdoor area you want.
Build your new timber deck the stress free way, give us a call today.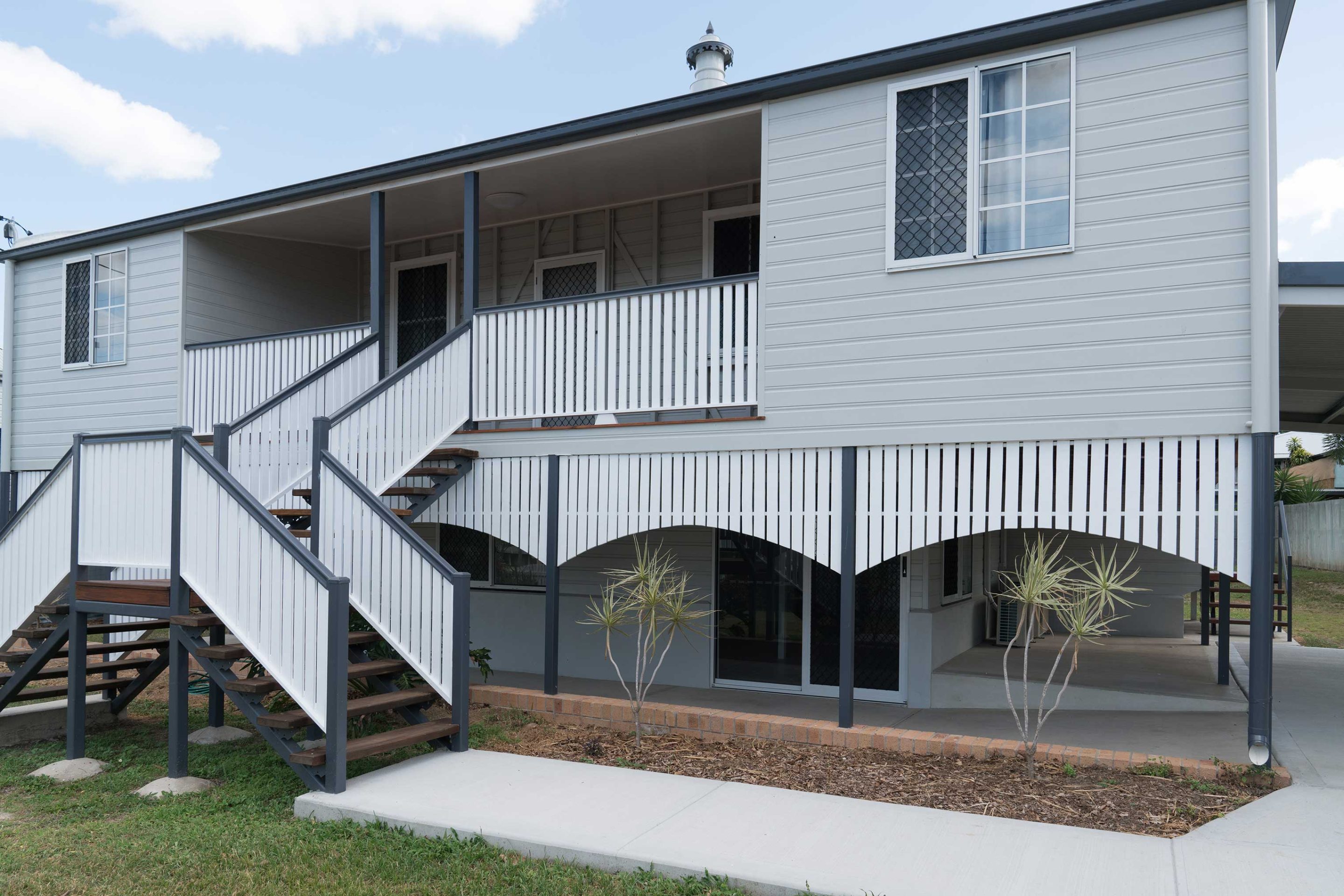 Enjoy the security
of a 7 year warranty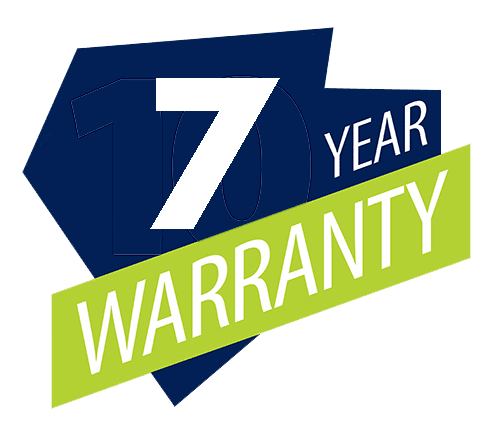 New Timber Decks Brisbane
We all love stylish, outdoor living and dining and to compliment this lifestyle Brisbane Decks and Stairs build beautiful, new timber decks, specialising in custom designs and had to access sites across the whole of Brisbane. We provide individual designs taking into account your requirements. This is followed by quality construction, custom timber handrails, hardwood steps, posts, bearers and joists.
Your new timber deck should be comfortable and functional and flow naturally between the spaces in you home. More importantly, it needs to be safely and robustly constructed to ensure longevity.
Brisbane Decks and Stairs are:
Qualified, highly-skilled carpenters and registered builders

Professionally qualified, licensed and fully insured
We have:
Over 25 years industry experience and;

We'll provide obligation free quote and advice

Provide a fixed price written quotation so no nasty surprises

Fit in with your work dates
How Much Does A New Timber Deck Cost?
At Brisbane Decks and Stairs we've never built the same deck twice! Every project is based on our customer's needs, lifestyle and budget. This ensures that when you choose us as your deck builder you get the outdoor living area that is completely unique to you and your home.
Without seeing your outdoor space we can't give you a price, but we can list some of the factors that influence the final cost of your new deck.
The size and height of your timber deck
Like all building projects, size matters and this will have an influence on the final cost of your deck. Obviously, the bigger the deck the more materials and time are needed to construct it. Height from the ground is also a factor as this may involve scaffolding and safety issues.
The choice of materials
All timbers vary in price. At Brisbane decks and Stairs we use Merbau, Spotted Gum, Composite Decking such as Modwood and pine is also available. The cost of all of these materials is different and the time needed to install them also differs.
Fixtures and fittings
When budgeting it's also useful to take into account items such as sliding or stacker doors, stairs, roofing materials and linings which all affect the final cost of the project.
As you can appreciate, it's had to give a guide price as all of our customer's requirements are different. However, we'd love you to give you a fixed price quote on your new timber deck. We'll organise a time that suits you to come to your home, discuss exactly what your needs are, then we can prepare an accurate quote based on your preferences.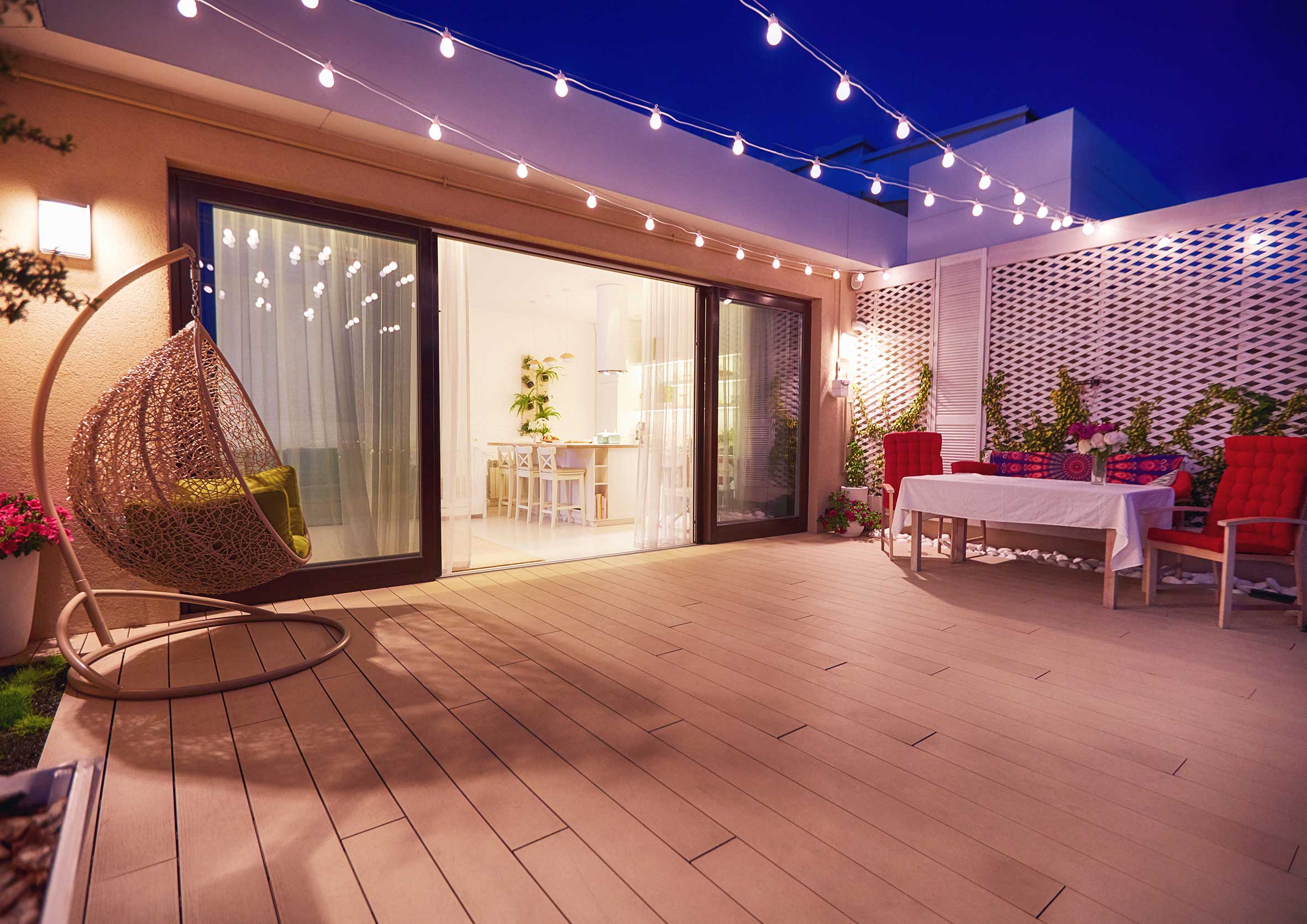 Brisbane Decks and Stairs
Brisbane's Trusted Deck Builder
Fully licensed renovations

QBCC registered medium rise building licence

Member HAI

25 years industry experience

Family owned & operated

Value for money new timber decks

Low maintenance composite decks

Deck repairs 
Building a new timber deck doesn't have to be complicated or scary, if you choose the right team. If you're serious about new outdoor area, call in the specialists. Let's do it!